Denise van den Berg, growth hacker at ASA/USG People (The Netherlands)
"I've found my dream job. As a growth hacker at ASA, I really feel I'm in the right place. I work with data and ICT, I can use my creativity and the job delivers fast results. I like that."
"My career in HR started immediately after I graduated in Organizational Sciences. When I applied at ASA for a job as consultant, I lacked any significant work experience in the temporary employment sector. But the position really appealed to me, because I would be able to work with an interesting target audience (students and young professionals), and I was going to have a lot of contact with clients and candidates. I really felt that ASA's vision matched mine, so I went for it. After a pleasant job interview I got the job!"
Growth hacking came at the right moment
"When after a couple of years the opportunity arose to follow a course in growth hacking at USG People (parent company of ASA and subsidiary to Recruit Global Staffing), I immediately knew that the job was right for me. One of the things I love is getting results through experimentation. In previous years I had noticed that I was looking for a job where I could put my creativity and love for IT more into practice. In fact I'm kind of an IT girl."
Better insight thanks to big data
"Growth hacking in HR is a combination of marketing and advertising, backed up by big data. It's all about experimenting. As growth hacker at ASA I'm part of a larger team of growth hackers at USG People. Our goal is to find the best way of reaching a target audience through a process of 'trial and error'. The idea is to keep investment small yet reach the highest possible returns. This way of recruiting differs enormously from the usual methods. Our work really begins when we publish a vacancy or advertisement. Then we start to collect and analyze the data generated by the post. This information gives us a much better insight into how our target audience reacts to the content. What triggers their attention and response? Where do they leave off? What works, what doesn't?"
Growth hacking gives you the right insights much more quickly. With these insights you can determine the best strategies for your marketing and advertising. Which in the end brings vacancies closer to potential candidates.
Results within a matter of days
"We use different techniques such as Multivariate Testing, AB testing and some complicated data tracking techniques such as UTM tagging. We start analyzing results in a matter of days. We have an assumption, come up with a test and start experimenting right away. Within a couple of days we know if our assumption is correct. If it is, we develop and refine the idea and implement it more often. If it doesn't we wave it goodbye and focus on the next idea. We experiment almost on an everyday base."
"It's a hands-on approach, but with a very strategic framework. For example, I currently use growth hacking to increase ASA's brand awareness. A great challenge. The first results are already looking good: the conversion on our new website has increased!"
The things I learned
Becoming a growth hacker really shifted my perspective of the way a HR consultant operates. Typically a consultant publishes a vacancy, crosses his fingers and hopes the target audience will respond. As a growth hacker we look at what our candidates really want. The ASA target audience, for example, is not that keen on advertising. If something sounds too good to be true, it probably is. They won't buy it, so as a consultant you have to adjust to that. It's one of the things I've learned."
"USG People is one of the leaders in the field of growth hacking. I'm proud to be part of it. For my colleagues at ASA and USG People, growth hacking is still a very new concept. I regularly give workshops on how they can use growth hacking to find better candidates in a smarter way. I notice that all my colleagues are enthusiastic about growth hacking. That's good, because it's the future of our business."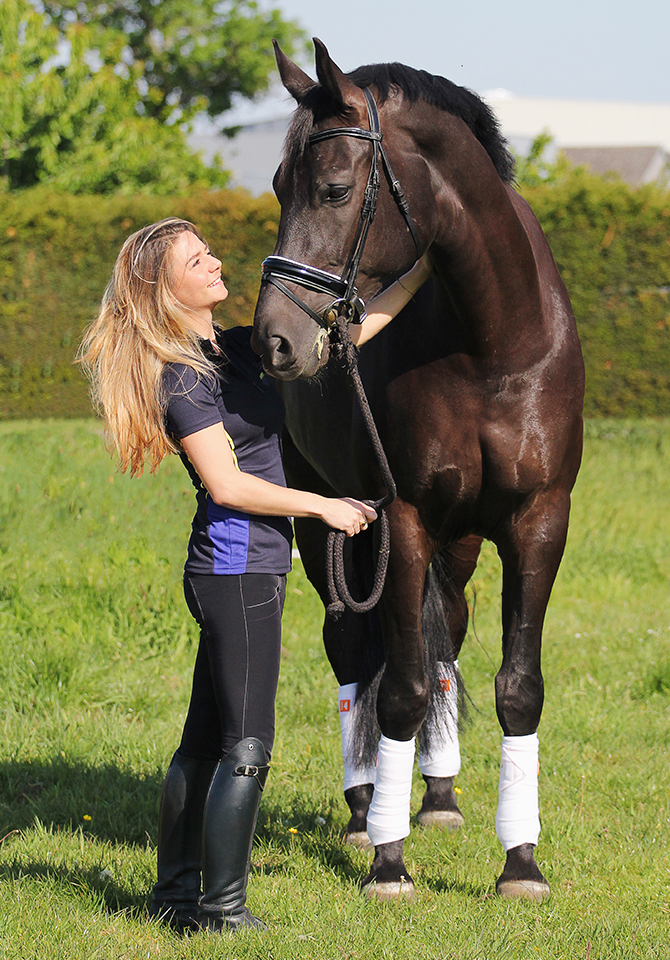 I now look at the things that contribute to our organization
"In the past year I progressed not only as employer of ASA, I also grew on a more personal level. I learned to say 'no' more often. If you're working on something as new as growth hacking, you'll get a lot of questions from colleagues. But I just can't always respond to all requests. I've learned to look at what actions are useful for our organization. If I get a request from a colleague that doesn't fit my schedule at that moment, I try to help them by letting them think about how they can tackle their problem themselves, instead of solving it for them. This form of coaching gives me a lot of energy."
Horse riding as a moment of relaxation
"When I'm not at work you can probably find me with family, friends or with my horse. 4 to 5 evenings a week I train a horse for dressage competitions. In a couple of years I want to compete with him. Till I was sixteen years old I always wanted to become a professional equestrian. But then I realized that I preferred a job in the private sector."
"Horse riding is a perfect way to clear my head, to straighten my thoughts and to relax after a busy day. At practice I can focus on one thing and put all my energy into it. There are a lot of resemblances with work, where I'm also going all out for it. I'm really focused on my career and I constantly want to develop myself. Just as I still want to develop my horse's performance and my equestrian skills."
My work should surprise people
"During my time at ASA I have grown enormously. At school I didn't necessarily want to be a top student. But now I'm very ambitious. I don't necessarily want to be the best of all, but I do want to do my job in the best possible way. My work should surprise people."
"ASA helped me enormously with my personal growth. When I started here, I could be very impatient. If a colleague didn't immediately respond to my question, I would think 'why can't you do it right away?' That attitude caused me problems from time to time. Now I'm more patient and I understand that everyone reacts differently. My manager Joseline van der Linden played a major role in this process. She pointed out to me the things I could improve. She was also the one who stood up for me when the traineeship growth hacking started."
"I don't believe I will be quitting my job soon, because I really feel at home at ASA. I work in a great team with other growth hackers, talent hackers and marketing. I think I can develop myself further as growth hacker and see plenty of opportunities for me to grow within ASA and USG People."