'The friendships I have made with all the women I've worked with and the trust I got from Beon Energy and Chandler Macleod, were amazing.'
In an effort to increase diversity and the participation of women in the construction of large-scale solar farms, Chandler Macleod Group (CMG) and Beon Energy implemented the Women in Solar program at different solar farms across Australia. In 2018 the program started at the Karadoc Solar Farm in Victoria and was followed-up at the Bomen Solar Farm near Wagga Wagga. The program gives women of different backgrounds an opportunity at a career in one of Australia's booming industries.
Uniquely poised to lead on diversity
Australia is in the middle of an important transition from fossil fuel-based energy systems to more renewable energy options. At its current rate, it is on track for a goal of 50% renewable electricity by 2025. As a result, solar energy solutions are rapidly developing and are providing opportunities for local workforces. "As an emerging and growing industry, the renewable energy sector is uniquely poised to lead on diversity. If the industry does not prioritize gender equality now, the renewable energy transition could perpetuate gender inequality. The same could be said for our Aboriginal and Torres Strait Islander populations, as well as unemployed, mature aged and special ability workers", stated Chandler Macleod.
Locally sourced
In 2018, Chandler Macleod Group was appointed as the workforce management provider for the new 112 Megawatt Karadoc Solar Farm being constructed by Beon Energy Solutions. CMG was tasked with recruiting and employing a diverse and strictly local workforce of 300 people during 2018. CMG partnered with six local community groups to ensure that the majority of the construction workers were locally sourced, and that people were from a variety of different backgrounds. Part of the recruiting and employing was The Women in Solar Program.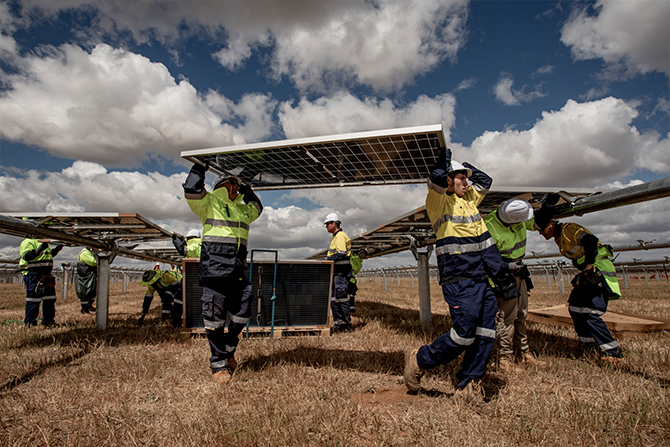 Wagga Wagga
The Women in Solar program at Karadoc was a success and was then implemented at the Bomen Solar Farm in Wagga Wagga. The program started with 12 women. Three were Aboriginal, three were single mothers, and five were long term unemployed. Hayley Stear is one of the women who participated in the program at Bomen Solar Farm. "Before we started working at the solar farm we did a four week course. The first week was to encourage us and to boost us up. In the second week we learned what the job involves, and we followed different courses on how a solar farm is built, and safety processes and systems. At the start there were a lot of us that probably thought: I don't know if I can do this, If I should be out here working at a solar farm. But during the training they gave us the confidence and courage to put that foot forward and do this. That was really good."
The 4-week intensive program gives participants a combination of accredited and non-accredited skills before they move into the full-time workforce, increasing the potential for success and longevity in the industry.
After the course the women joined the workforce and started their new jobs with great enthusiasm. Mechanical Manager Dennis Pana of the Bomen Solar Farm is thrilled to welcome employees out of the Women in Solar project: "Some of the best workers come out of the program. They all proofed them to be excellent workers."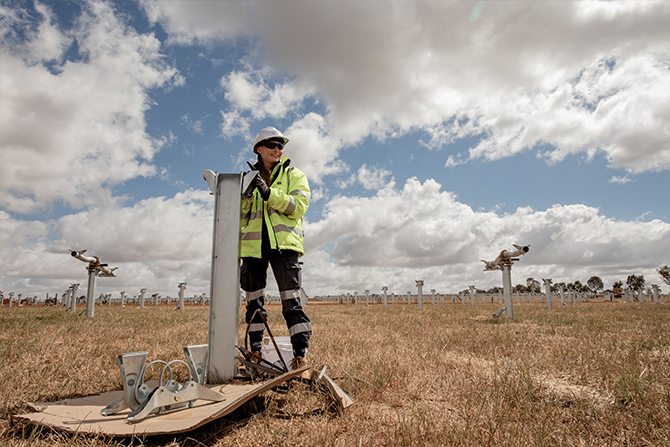 A huge impact
The program has had a huge impact on the lives of the women participating. "Getting this job means so much to me. It couldn't have come at a better time. This job allows me to achieve a lot of my goals, such as getting my own place and buy a car. This is a life changing job", said one of the workers, Chloe.
Hayley: "It had a big impact on a lot of people. Building confidence and giving courage to step out. Some of us are single moms, other haven't had a job in a while. They got us out working and back in society. Walking into this Women in Solar Program, I was nervous but also excited. This program has been amazing. The friendships I have made with all the women I've worked with and the trust I got from Beon Energy and Chandler Macleod, were great."
A future in renewable energy industry
At the end of this project participants gained new skills, experience and qualifications for future employment in the renewable energy industry. All of the successful course participants have been offered ongoing roles with Beon on their Bomen Solar Farm near Wagga Wagga.