Joshua Smith, senior Vice President at Advantage xPO, Dallas, Texas (United States of America)
"As I progressed through my career I took a couple of bold steps. Those big leaps of faith moved me away from the status quos and a level of comfort into the moment where I thought, 'What have I got myself into!' But then I realized that you can accomplish anything if you put your mind to it, build a plan, and engage with the right people. I think taking bold steps starts with confidence and belief in yourself. You might not have the right tools at the moment, but you should always remember that you can surround yourself with people who can help and develop you. People who can get you to the point that you need to be. I always kept that in mind."
Giving it a spin
"I was 24 years old and I had just graduated in marketing. I worked as a waiter and bartender and wasn't really sure what to do with my career. My wife put me in touch with Pro Staff, where I could get a job in a marketing role on a temporary contract. I didn't really know what temporary employment was, but I gave it a spin. After a while I was offered a full-time job as a talent manager at Pro Staff. I didn't know anything about recruiting or the industry. So I did a bit of homework, and I rolled the dice."
The big leaps of faith I took moved me away from the status quos.
Fear and anxiety
"The most overcomer story for me is probably when I had the opportunity to take up a role in sales in 2007. It was quite scary. The thought of cold-calling someone to drum up a conversation and generate a business opportunity made me very anxious. But I had a young family, and I knew that being in the sales arena gave me the opportunity to really grow my income, just based on my own performance. So I took a risk and went on faith. Again."
On my bucket list
"I never dreamed I would have such an abundant career. Over the years I promoted a couple of times. At some point I put becoming senior vice president on my bucket list, but I never thought I would reach that milestone at the age of 38. The fact that I have been given this opportunity, that the executive team of our combined company structure felt I'm the right person to lead Advantage xPO (part of Staffmark Group) into the next chapter is very humbling. It's also exciting because Advantage xPO has such a great opportunity to become a leader in our industry."
My greatest examples
"Through the years I worked with and led many wonderful people. And I was never shy in asking for help. In my professional life Candice Winterringer had the biggest influence on me. She was senior VP of Contingent Workforce Solutions and was very nurturing to me. She was very focused on separating me from my weaknesses and developing my strengths. She taught me humility. I think it's a characteristic that should be in every leader's toolbox."
"In my personal life my late brother Jeffrey Smith was my biggest example. We were not just brothers, we were best friends. He taught me that there is a career and a home life and how to combine them in a balanced way. He showed me how to be a good father, that you should be intentional with your wife and family."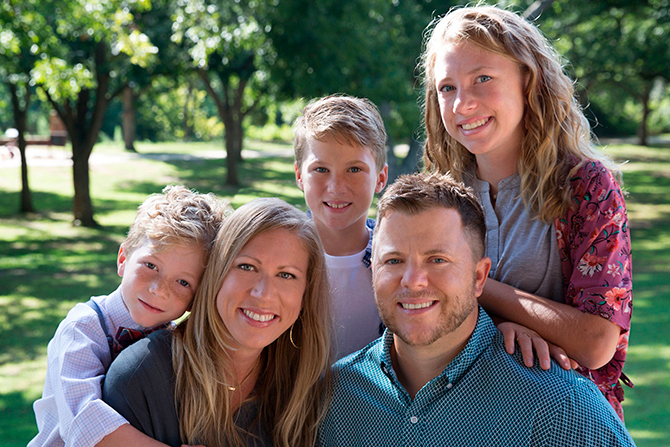 Family is everything
"Family is the most important thing. At the end of the day you come home from work and family is what you got. In the latter part of my career I started to take note of that. I started to grow. Soon after I started at Pro Staff we had our first child. A couple of years later our second and third. My career responsibilities were increasing as well as my family responsibilities. So I had to be able to strike a balance."
Intentionality
"I found balance through trial and error and with the help of my brother. I came to a point where I learned that a lot of imbalance comes from a lack of self-discipline. You know, I can find a reason to work till ten o'clock every night. But the reality is that some work will still be there the next day. Especially those non-functional, non-critical types of tasks that are really interfering with family time. I still work very hard, but I'm more directive and smarter in how I manage my time."
"I try to be intentional in everything I do. So when I'm working I make sure I'm focused on work. I remove distractions. When I'm not at work, I make sure I'm intentional with my family."
At the end of the day you come home from work and family is what you got. In the latter part of my career I started to take note of that.
Raising up
"Our family is big on experiences. We are our own biggest fans and spend more time together than apart. We go to the beach and to the mountains. We love the outdoors and vacations. All three of our kids are involved in sports. My wife and I are sports parents, and I'm very active in coaching at my sons' sports. I find it very important to my development to work together with other parents. And it's great to see that we are raising up our sons as young men who are humble and respectful. As for myself, I'm active in fitness and softball."
My biggest lesson to others
"I realize that my story, starting as a temp worker and becoming senior vice president at the age of 38, is inspiring to others. I think one of the biggest lessons I try to teach others is that if you believe in yourself and what you bring to the table, it doesn't matter what others do or have done. What matters is what you can do. That's something I communicate and try to live out with my people."