Becky Lowry (Executive Director) and Deborah Valentine (Secretary) at CSI Gives Back (United States of America)
The CSI Companies is more than a highly successful turnkey staffing solutions provider. At the heart of the company, headquartered in Jacksonville, Florida, is its charitable giving division CSI Gives Back. With this social responsibility initiative, The CSI Companies supports the local community in Duval County and has a meaningful impact on the lives of those in need.
The Clothing Closet
One of the supported organizations is the Duval County Public Schools Clothing Closet in Duval County. About 48,600 children (1 in 4) in Duval County live in poverty. Many families cannot afford the school uniforms required by the county's schools. In 2013, Duval County Public School social workers started The Clothing Closet, a clothing resource for those in need. The Closet provides new uniform basics: khaki pants and short sleeve polo shirts in basic primary colors, free of charge.
Such help is desperately needed. Attending school is the first step for children to build a brighter future for themselves. Not having the required clothes may prove a serious obstacle. For example, one student didn't attend school for a week because he didn't have clothes in the right color. Or take the 13-year-old middle schooler who showed up for a meeting with social workers wearing a jacket on a searing hot day. When asked, he explained it was the only piece of clothing he owned in the right color for his school. His family had been forced to move into a hotel room after his father lost his job, and his only school polo had been lost in the move.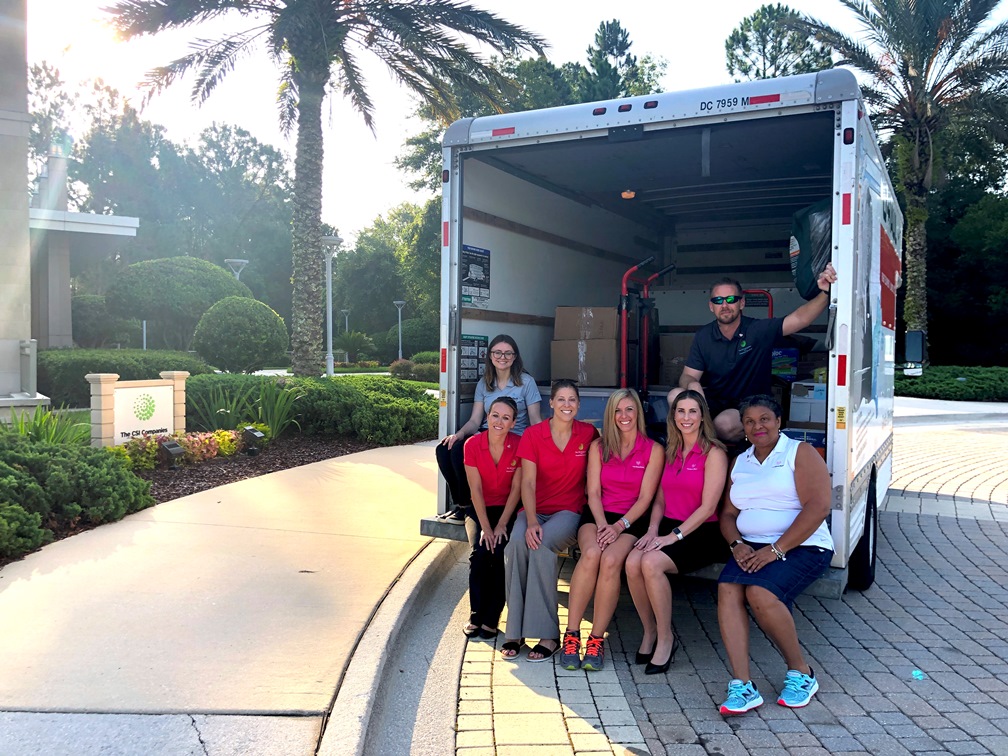 1,000 uniforms across 150 schools
Through the Clothing Closet program, students are referred by teachers and social workers who hand-deliver items directly to their home. "The referrals and deliveries are confidential, to maintain the privacy and dignity of the student and the family," says school social work supervisor Laura Chiarello of The Clothing Closet. "In fact, we know that parents don't always tell their child that the new clothes were donated." Although a partnership with a local vendor allows the school system to purchase a whole uniform, top and bottom for just $12, it has been a struggle to find funding to stock enough colors and sizes to meet the needs of the roughly 500 students referred each year. In 2017, The Clothing Closet provided 1,000 uniforms to students across 150 schools in Duval County.
Identify and support local organizations
CSI Gives Back was born in 2011 and was granted official nonprofit status in January 2019. Its mission is 'to identify and support local organizations that directly impact those in true need. Providing acts of kindness and bringing smiles to the community.' Becky Lowry, Executive Director of CSI Gives Back, says, "At CSI Gives Back, we go beyond providing monetary donations to nationally renowned nonprofit organizations. Our goal is to find organizations in true need, especially in our local communities. We identify initiatives that may be a little bit under the radar, but which can have a direct impact, changing someone's life and giving them opportunities for life."
What began in 2005 as a sponsorship of community events has flourished into a full-fledged social responsibility initiative that spans fundraisers, volunteerism, board membership, and cherished partnerships. In 2019 there wasn't a single CSI employee that hasn't contributed via CSI Gives Back, giving volunteer-time and resources. Lowry says, "The CSI Companies has a very big heart. Everyone is so excited to truly make a difference in our community, whether it's big or small."
The Inaugural CSI Gives Back Gala
In 2018, CSI Gives Back raised more than $60,000 in support of multiple organizations. During its inaugural CSI Gives Back Gala in June 2019, the organization raised $10,000 for The Clothing Closet, which will be used to purchase new shirts, pants, and extras like socks and underwear. "Our supporting The Clothing Closet isn't only about education being the cornerstone of our youth's future, but also about dignity. Children having the supplies to be able to be the best person they can be. When you dress well, you feel better, you perform better. In that sense lacking the right clothes can be compared to having to do all your schoolwork with a broken pencil and one sheet of paper," says Deborah Valentine, Secretary of CSI Gives Back.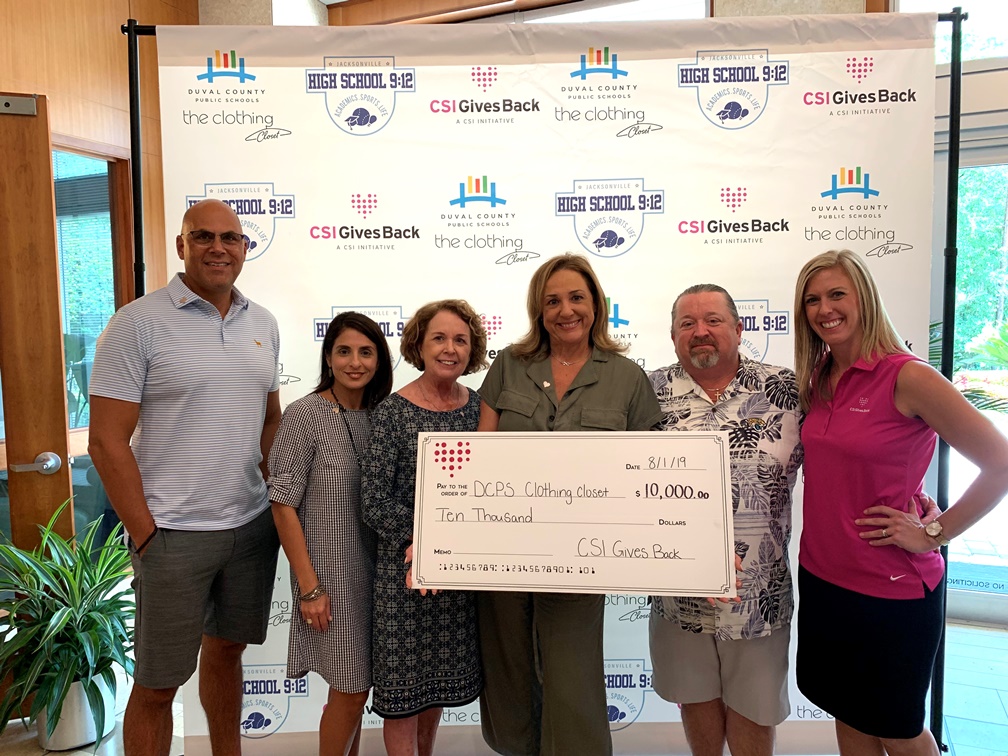 Many projects revolve around students and education
Many CSI Gives Back initiatives in 2019 revolved around students that where in true need. Valentine adds, "From kindergarten to high school students, we're providing clothes, supplies, preparing them for their next steps. These kids find themselves in a situation where when one thing goes wrong, their parents can't get them a new pair of shoes, for example." Lowry says, "These students eventually become part of the workforce. We want to help empower them to build a better community."
When he received his new black polo, the 13-year-old boy mentioned earlier was thrilled. And he quietly informed a social worker that another student and his family were living at the same hotel. They'd both had trouble with attendance because the local bus route didn't run at the right times and didn't stop near their school. Social workers were able to allot resources to these students for transportation, enabling them to get to school on time and in the right uniform. Deborah Valentine: "It's very rewarding to see the impact on these kids. It means the world to them." Lowry: "When you send money to a global charity it has an impact, but you can't relate to it personally. Here, we can see the impact for ourselves, right in front of our eyes."
In June 2020, the second annual CSI Gives Back gala will be held, and the plan is to continue to donate proceeds to The Clothing Closet. "Our goal is to double our funds!" says Valentine. "CSI Gives Back exists to provide for people and organizations in need. Our company grows and evolves, and so do the needs of people in our communities. We're committed to making a difference for as many people as we can."