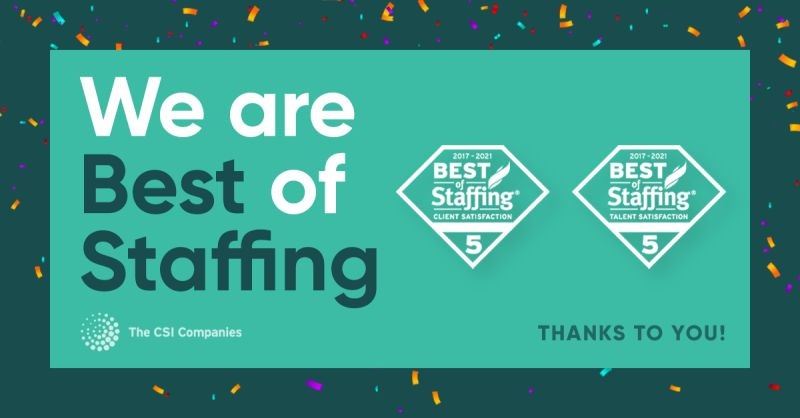 "After one of the most turbulent years in modern history, winners of the 2021 Best of Staffing award have proven their commitment to go above and beyond in support of their clients and placed talent," said ClearlyRated's CEO and Founder, Eric Gregg.
Diamond Level Status
Both companies earned at least five years in a row the Best of Staffing Award, giving them the Diamond Level Status. CSI Financial earned the Best of Staffing awards for both candidate and client satisfaction for the second year in a row. CSI Professional has earned the Best of Staffing awards since 2013 while CSI Tech has earned the Best of Staffing awards since 2014, keeping their Diamond status at 2021. Staffmark Group earned 18 Best of Staffing Awards, including five at the Diamond Award level.
Excellent performance
Chris Flakus, COO of The CSI Companies is extremely proud of this performance: "The year 2020 brought numerous unexpected challenges to all of us. Instead of giving in to these challenges, our team members stepped up to the plate and found opportunities to lift ourselves and others out of adversity."
Geno Cutolo, CEO of Staffmark Group feels honored: "Our team has worked tirelessly to meet ever-changing needs over the past year, and I couldn't be more proud of them. We value our partnership with our clients and talent, and we're dedicated to continuing to earn their stamp of approval each and every day."
"It makes me proud to see that our companies are always going that extra mile, even in these unprecedented times", said Rob Zandbergen, CEO of RGF Staffing. "This award is an important recognition from clients and talents and it just goes to show how The CSI Companies and Staffmark Group are able to provide the service with which they can thrive."
B
ackground Awards
ClearlyRated's Best of Staffing® Award is the only award in the U.S. and Canada that recognizes staffing agencies that have proven superior service quality based entirely on ratings provided by their clients and placed talent.